Huffington Post Article: This Stepkid Has Some Helpful Advice On Dealing With Blended Family Problems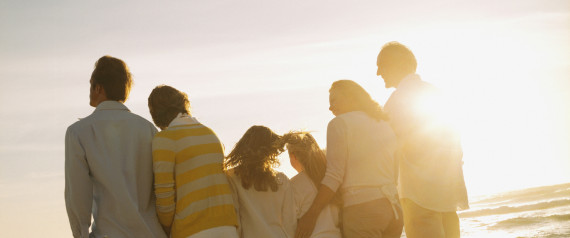 This Stepkid Has Some Helpful Advice On Dealing With Blended Family Problems
By: Huffington Post
As part of our Blended Family Friday series, each week we spotlight a different stepfamily to learn how they successfully blended their two families. Our hope is that by telling their stories, we'll bring you closer to blended family bliss in your own life!
This week, our reader Molly Walter gives us a primer on what it was like to gain a stepmom and two new siblings in her teen years.
"It was four teenagers in a house together and all of a sudden we were supposed to be a family," Molly said. "But to be honest, we became so close so quickly and now I love my stepsister and stepbrother as part of my family — we are so close!"
Below, Molly shares more of her family's story and offers her best advice for kids in blended family households struggling to find their place within them.
Hi Molly! Want to introduce us to your family?
Sure! There are six family members total: My dad Chip; my stepmom Cyndy; my sister Hannah, 21; my stepbrother Steve, 21; my stepsister Annie, 19; and then there's me. I'm 24.
My dad and stepmom have been dating since 2005 and living together since 2008. They married in the spring of 2009.
Your dad and stepmom got together when you and your siblings were a little older. How did you feel about it at the time?
Originally, I thought our parents were very brave to try to merge families when all four of us were teenagers. But it miraculously all worked out and we all became very close right off the bat. Now, I'd say the biggest challenge is coordinating everyone. With four kids who live around the country and who all have two sides of a family to spend time with when they come to town, quality family time can be hard to schedule. For the few times a year all the college breaks line up, the time still has to be split between a lot of people, leaving little time for all six of us to be in the same place at once. It definitely requires lots of planning pretty far in advance. Since it can be so crazy, we make sure that all six of us spend Christmas Eve and Christmas morning together — we have our holiday traditions every year and know that we can always look forward to that time together, no matter what.
What's the best thing about being part of a blended family?
I gained three amazing family members! My stepmom, stepbrother and stepsister are my family now and I love them as I love anyone else in my family. My three siblings and I are very close and I wouldn't give that up for anything.
What makes you proudest of your family today?
How supportive we are of each other and how little not being biologically related matters. My stepmom treats my sister and I like her own children, my dad treats my stepbrother and stepsister like his own children, and the four of us kids all treat each other like we've been together from day one. We're always there for each other and have an amazing supportive network in each other around the country.
How does everyone manage the stress that comes with being part of a blended family?
I think a lot of how we as a family deal with that stress comes from our parents. My dad and stepmom have always been really good about when we should handle things as a whole family and when our parents should deal with their own kids separately. Their example set a really great mentality for the family from the beginning. I also think that making time for the "original" families to hang out is an important part of being a blended family.
What advice do you have for kids who are having a difficult time getting used to life in a blended family?
The first thing I'd suggest would be to remember that this is hard. Your parent is marrying someone new and your family just got bigger with some weird, new people! But I would also say that your parent chose this person to spend the rest of their life with and that's worth at least trying to make it work, as long as no one's being cruel to you or anyone else. Talk to your parent or sibling(s) if you have any about your concerns and see if they have any ideas. Siblings are great because they're likely having similar feelings as you. My sister was a huge help to have with me through the whole process, since she was also excited for our dad and new family, but had some of the same reservations as I did. Having someone in that same boat as you can be an amazing resource.
_____________________________________________________________________________
Molly's advice in Huffington Post's article "This Stepkid Has Some Helpful Advice On Dealing With Blended Family Problems" has some great tips on how to manage in a blended family.  Being open to the change is a key point in helping your new situation work.  There are many aspects that go into organizing any family and those aspects seem to double or triple within blended families.
Molly's experience has worked out well for her and her new siblings but that's not always the case for every family.  Some situations are a lot less civil and the tension can be very apparent.  If you found yourself in circumstances that aren't as gracious, please contact our office for guidance.  We can assist you and your family with issues that go far beyond simply getting along.
Call 661-255-1800 for your free initial consultation.
Law Offices of Steven B. Chroman, P. C. Santa Clarita Divorce
Tags: BlendedFamilies, BlendedFamily, ComplimentaryConsultation, CopingWithDivorce, Divorce, DivorceAndChildren, DivorceLawyer, DivorceTips, FamilyLawAttorney, FreeConsultation, FreeConsultationLawyers, HuffingtonPost, LawOfficesofStevenBChromanPC, SantaClaritaDivorce, Stepfamilies, Stepfamily, Stepsiblings